Regina Barreca
Board of Trustees Distinguished Professor
English
---
About
Called "smart and funny" by People magazine and "very, very funny for a woman" by Dave Barry, Professor Gina Barreca was deemed a "feminist humor maven" by Ms. Magazine. Novelist Wally Lamb said Barreca's prose, in equal measures, is "hilarious and humane."
Arriving in Storrs in 1987, Barreca is winner of UConn's highest award for excellence in teaching. Barreca has delivered, often as a repeat guest, keynote speeches at events organized by the National Writers Workshop, the Women's Campaign School at Yale, the National Association of Independent Schools, The Chicago Humanities Festival, Women In Federal Law Enforcement, Chautauqua, and The Smithsonian– to name a few.
Her books include the bestselling "They Used to Call Me Snow White, But I Drifted: Women's Strategic Use of Humor" (Viking/Penguin); "Babes in Boyland: A Personal History of Coeducation in the Ivy League" (UPNE); "Sweet Revenge: The Wicked Delights of Getting Even" (Crown); "It's Not That I'm Bitter, or How I Stopped Worrying About Visible Panty Lines and Conquered the World" (St. Martin's); and "I'm With Stupid: 10,000 Years of Misunderstanding Between the Sexes Cleared Right Up" (written with Gene Weingarten, based on articles appearing in "The Washington Post" and published by Simon and Schuster).  Her books have been translated into Chinese, Spanish, German, Japanese, as well as other languages.The books she's edited, including "The Penguin Book fo Women's Humor," "The Signet Book of American Humor," "A Sit-Down with The Sopranos," "Don't Tell Mama: The Penguin Book of Italian American Writing." and "Fast Funny Women" have made her one of the world's leading experts on why humor is one of life's greatest survival strategies. She's appeared on The Today Show, 20/20, CNN, the BBC, NPR and Oprah to discuss politics, popular culture, education, and literature. Her other writing has appeared in The New York Times, The LA Times, The Chicago Tribune, The Independent (of London), Forbes, Cosmopolitan, and The Harvard Business Review.
Her academic specialities include creative writing, popular literature, women's literature, gender and humor, modern British literature, and Victorian literature. Barreca grew up in Brooklyn and Long Island, and now lives with her husband in Storrs.
Specialties
Twentieth-Century British Literature
Women's Writing and Feminist Literary Theory
The Novel
Creative Writing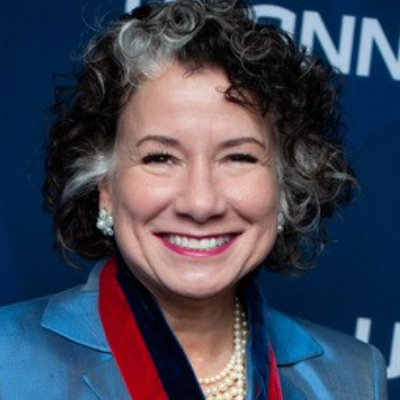 Email
regina.barreca@uconn.edu
Phone
860-486-2988
CV
Regina Barreca
Mailing Address
University of Connecticut
Department of English
215 Glenbrook Road, U-4025
Storrs, CT 06269-4025
Office Location
Austin 130
Campus
Storrs
Office Hours
MW 12pm – 4pm, and by appointment scheduled via email