Established in the 1980s, the Aetna Chair of Writing draws from the Aetna Life and Casualty Foundation's Aetna Endowment to initiate, enhance, and otherwise further University of Connecticut writing programs.
Programs and Initiatives
The Aetna Chair of Writing and its associated funds support initiatives that promote writing initiatives for students, educators, and the UConn community. Examples include:
Recent Posts
The Terra Foundation has awarded a $50,000 grant to Professor Brenda Jo Brueggemann and her team for their exhibit/curation project, Shaped by the American Dream: Deaf History through Deaf Art. 
[Read More]
Aetna Chair of Writing Brenda Brueggemann, along with graduate students Margaret McFarlane, Emily Tarconish, and Kathryn Warrender-Hill, created an online survey in academic year 2020-2021 for graduate students, focusing on how the pandemic has influenced their education experience.
[Read More]
Meet the Aetna Chair
---
Aetna Chair of Writing and Professor of English

Brenda Jo Brueggemann is Professor of English and Aetna Endowed Chair of Writing at the University of Connecticut; she also teaches at the Bread Loaf School of English at Middlebury College during the summer. She has been deaf (genetic) from birth. After college, she taught high school in her rural Kansas community for five years before going to graduate school. In the mid-1990s, bolstered by the passage of the Americans with Disabilities Act, she helped conceptualize the new field of Disability Studies.
She has written, co-written, edited, or co-edited 16 books, including nine memoirs in the "Deaf Lives" series she created for Gallaudet University Press, and more than 70 essays and articles at the intersections of Deaf/Disability Studies and writing/art. Her current research centers on disability and deafness in the visual and literary arts.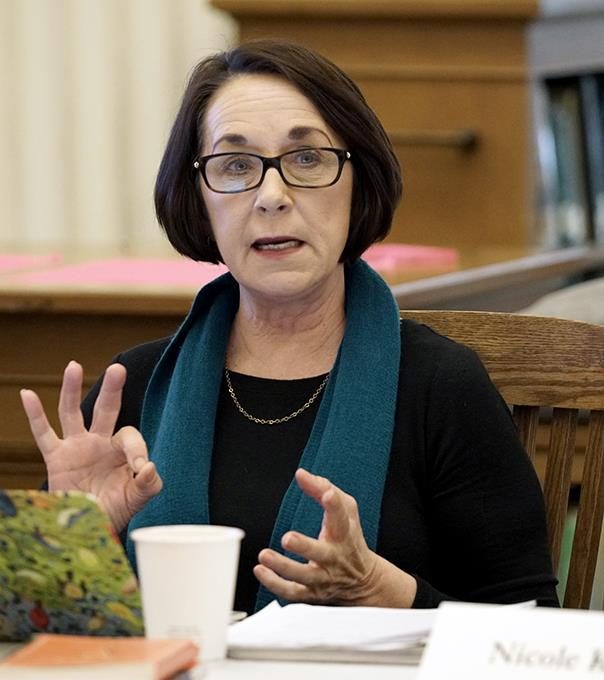 Past Aetna Chairs
Professor Emerita of English