We'd like to thank Emily Graham, Class of 2022, for being this year's author of Off the Page. We asked her a couple of our favorite questions – Why English and Why UConn – and here are her answers. We wish her the best of luck as she leaves the Nutmeg State to continue her studies at the University of Iowa.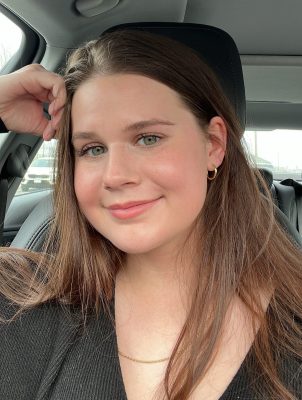 Why English? My "Why English" is very specific to me, so it is probably not very helpful for prospective students. But I just love the field of study. I came to UConn as an Animal Science/Pre-Vet major, and as adamant as I was to become a veterinarian, I realized a few months into biology and calculus that I was miserable. College is supposed to be some of the best years of your life, and I knew that if I didn't change what I was doing, I would be wasting money and going to classes that left me drained and defeated. I wanted to be happy, and I know that English makes me happy. It unlocks my imagination and curiosity like no other subject can. Coming to the English department is easily the best decision I've ever made here.
Why UConn? There's a reason why the community is such a popular answer to this question. It's my answer, too. For example, in my four years in college, my favorite class will forever be Professor Semenza's ENGL4600W on Documentary Film last fall. I think the people there are a good representation of why UConn English is so unique, as we are all so passionate; we are lively and engage with the material presented in front of us. I'd argue that this makes our classes so close-knit and unique. It's no fun to go through anything alone, and I never will be with a community of friends and professors like these.
What's next? I will be pursuing my MFA in the two-year Literary Translation program at the University of Iowa. Translation is often overlooked — we don't acknowledge that there are incredible authors out there whose work would not have been as recognized if it was limited to a single language/audience. So I hope that I can eventually do that with my translation of French poetry. On a more personal note, I am an Ohioan, so I am happy to be returning to my Midwest roots, where the weather is capricious, and the cornfields are plentiful. My cat, Gnocchi, and I will pose for our very own American Gothic — hooray! I don't know about afterward — I'd love to be a freelance translator or work in a publishing company that focuses on the release of world literature. But I'm not going to think too hard about the far-away future right now. Currently, I am bursting with excitement at what I know is to come.