by Emily Graham, '22 (CLAS)
Freshly graduated from UConn, Sophia Gabriel '21 (CLAS) sat down with Emily Graham to discuss post-graduation life, having a job during a pandemic, and how an English major is what got her to today.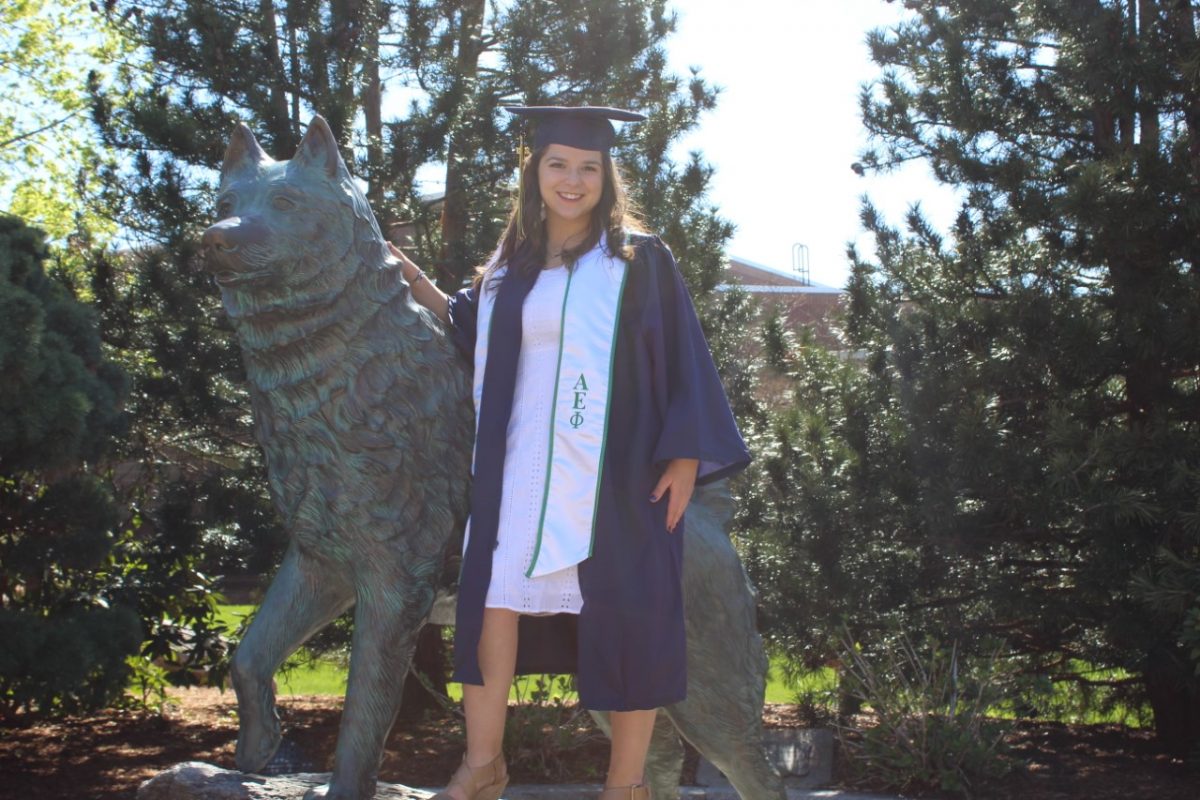 After she graduated from UConn Storrs with a double major in English and American Studies, Sophia Gabriel '21 (CLAS) didn't immediately know where to go next. Sophia always knew that she loved history and English, but she chose not to enroll in a pre-teaching program so that she wouldn't be eternally pigeon holed into a single occupation. Bombarded by interrogations as to why she majored in English and what she was going to do if not straight to teaching, Sophia quipped back "Literally anything. Having an English degree proves that I can read well and write well, and it also proves that I can write a piece that people want to read." That shut her detractors up.
With the summer off to ponder her future, the Fairfield native decided to take a break from schooling and substitute teach for her local public school, applying online to any jobs that she could find while her students were silently working away at their desks. Many applications later, she found Rhone.
"The position fell into my lap," she gushed. "I was hired as their first and only copywriter, and I didn't even know what a copywriter was before I looked over the job description."
Similar to the popular athleisure brand Lululemon, Rhone is a male athletic and performance wear company for men "who are guided by principle and focused on balance." As the sole copywriter, Sophia writes and reviews all of the texts that go into product emails; works collaboratively with the marketing team; and puts together text that will engage the consumer and present brand information clearly. She also writes for Rhone's lifestyle blog on topics ranging from a pharmacist's new invention to a wellness coach's techniques. 
After a few months, she was working so hard that they eventually promoted her to Brand Marketing Coordinator, a position where she manages Rhone's social media pages from the comfort of her own home. (Headquartered in Stamford, however, Rhone isn't much of a hike for Sophia anyways, and she visits the offices on occasion when she wants to interact with her coworkers.)
In whatever position she may be, Sophia has acknowledged just how much of an impact the English department has had on her post-grad journey. "UConn English has instilled an intensive work ethic in me," she explains. "They encouraged me to write things down that scared me or that I never thought others would want to read; they helped me develop a skin that is thick enough to accept if something isn't working. This community has pushed me to be the best and reminds me that I can be the best. I'm not going to cower from any creative risks thrown my way."
After a few years at Rhone, Sophia hopes to go back and get a teaching certificate, perhaps in history and social studies. Dedicated to educating future generations on the impact of 9/11, she has toyed around with the idea of eventually working with the 9/11 Memorial Museum in New York City. But she's happy that her future is up in the air for now. "If you major in English, you can have a career in anything because it instills a knowledge in you that is necessary for general success. It makes you look introspectively at yourself, and it encourages you to be vulnerable and inquisitive towards the lives of others. I can safely say that the English department got me to where I am today. You're never alone in this community."
Not even a full year out of college, Sophia's passion just goes to show how UConn's everlasting influence kicks up as soon as you leave Storrs.