by Pascale Joachim, '23 (CLAS)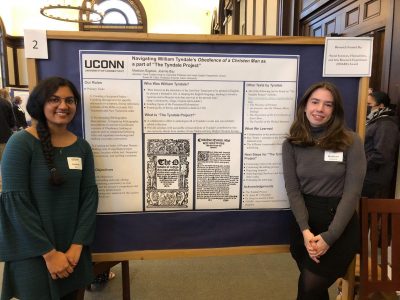 Hands-on experience is invaluable in any field, but especially in English when research can seem mysterious. Through the SHARE Apprenticeship Program, two English majors were able to participate in research being conducted by UConn's English Department Head and Associate Professor Dr. Clare Costley King'oo and Dr. Susan M. Felch, Professor Emerita of English at Calvin University. The goal of their research project is to make the works of humanist and reformer William Tyndale accessible in print and online so that scholars can investigate how those works shaped discourse on a wide range of topics, such as educational reform, literacy, and governmental policies. Dr. King'oo and Dr. Felch are working on Tyndale's Obedience of Christen Men and recruited Madison Bigelow (CLAS '24) and Joanne Biju (CLAS '23) to assist them this past summer. 
Dr. Clare King'oo on her experience with the SHARE Summer Apprenticeship
How did you hear about SHARE?
CK: I had previously done a SHARE Apprenticeship during the spring some years ago. I worked with a student named Alexis Cordone who was a Religious Studies individualized major and a Biological Sciences major on the pre-med track. She did a project with me on Protestant and Catholic conceptions of the afterlife. 
What was it like working with two undergraduates?
CK: I really loved the SHARE Apprenticeship Program. I think that the students themselves applied to the project, not specifically because it was Tyndale, but because they were looking for an experience in the humanities. 
I actually reached out to the SHARE program and asked if I could have two apprentices. The students were enthusiastic about getting a sense of what humanities research looks like and I was enthusiastic about having them on the team. 
What sort of work did your apprentices do?
CK: We had some very specific tasks that we asked them to do and a lot of it was extremely careful detailed work. We asked them to start by putting together an index of all the scriptural references in the text. 
We also had the students work on bibliographical descriptions. They looked at photographs or PDFs of the sixteenth-century editions of Tyndale's work and checked what we had said about those editions. This had to do with the layout on the page, the font that's used, the size of the font, what images there are, if any, and what kinds of illustrated or foliated or ornamental initials are used in the text. Their work was invaluable.  
The third task we had them work on was also an index, but it was quite a bit harder. We need an index of proper names and how they're used in Tyndale's work. Basically going through the text and figuring out if a word is a proper name and including it in the index and then finding all the other places where that name might appear, even if it's spelled multiple different ways. A name like Augustine can be spelled three or four different ways, and sometimes it's Austin, not Augustine, but he's still referring to the same person. Sometimes Saint is there, sometimes it's not. And it's not just names of people, but places as well. That was work where they really had to get into the meaning of the Obedience and give us a first draft index. 
We thought these three tasks got increasingly more difficult. One is compiling references we'd already found, the second is checking detailed analysis of the text and material objects, and then the third one, basically working from scratch to compile an index. I could see the confidence of our apprentices growing as they took on these more difficult tasks. 
Why do you think programs like SHARE are important?
CK: I think SHARE is an imperative, it's not just something that's nice to have. We have to be able to invite undergraduates into the kind of work that we do as professionals. Students are not aware that there is such a thing as research in English. That means we're not getting out there, we're not using classes enough to explain what we do as scholars.
Part of the reason I was excited about this project was because we have got to get the word out about what it is we do, why we care about it, and that it requires a certain level of dedication, commitment, learning, and skill to do it well. Just like the sciences. 
Madison Bigelow and Joanne Biju on being SHARE Apprentices
When you applied to this apprenticeship program, what did you hope to accomplish?
MB: When I applied, I was really just looking to get involved in research. Prior to this opportunity, I didn't entirely know what research in English/research in the humanities entailed, so learning about the research process in the humanities was a key factor in my application. I was also really looking forward to working under Dr. King'oo and learning more from her. 
JB: I was just super eager to learn something new, which of course is the beauty of an apprenticeship. As a Political Science and English double major, working on the Tyndale Project with Dr. King'oo was the perfect opportunity to witness the culmination of my two passions as well. 
As an English major, what sort of transferable skills have you picked up from courses that you were able to apply to this apprenticeship?
MB:  Attributes like communication, close reading, and collaboration were really important factors in my success as an apprentice, all of which I've learned in my English courses. These skills weren't just crucial for my SHARE apprenticeship, but are transferable into virtually any role I may decide to explore. All jobs will expect you to effectively communicate with your fellow employees and supervisors in order to achieve a common goal. They'll also require you to think critically when you encounter a challenge or obstacle that you must overcome in order to complete a task. As an apprentice, I was lucky enough to practice these skills within a professional context I have great interest in, but I know these skills will be essential anywhere. 
JB: Being attentive to detail — a lot of people dislike English courses because they think it requires you to overanalyze, to give unintended meaning to the tiniest of details. But being able to catch tiny details proved immensely useful in this apprenticeship, especially as Madison and I went through the bibliographic descriptions done by Dr. King'oo and Dr. Felch, comparing them to microfilmed versions of Tyndale's Obedience. 
What skills have you gained from this apprenticeship that you can apply to a future job?
MB: As a SHARE apprentice, one of my biggest takeaways came from the many different types of communication I encountered and practiced. Not only was I working with a supervising professor, Dr. King'oo, but I was working alongside Joanne, a fellow SHARE apprentice, as well. During my 90 hours, I was responsible for communicating any progress and uncertainty to Dr. King'oo while also in constant contact with Joanne, as we often delegated tasks amongst ourselves. Since we worked remotely, it was really important to ensure that any of our communications were clear and organized. Additionally, I learned a lot of skills pertaining to literary history and material texts, copyediting, and revision for publication. In the future, I might not be working with material texts, but I'll be prepared to closely analyze an assigned task and navigate it with precision. I think that, while some of these skills may not be obviously transferrable, they definitely helped me to cultivate a balance between "detail-oriented" and "big picture" work. 
JB: This apprenticeship has enhanced my proofreading and editing skills, which are both so important to most careers out there. Whether you're editing a manuscript, or simply double-checking an email before you send it, a strong grasp of grammar and the ability to catch discrepancies are valuable skills to have. 
What value do you find in humanities research?
MB: Research in the humanities is inseparable from our sense of empathy, which informs our pursuit of knowledge to better understand ourselves and the world around us, socially, culturally, and otherwise. In addition to all of the things one can learn about the world and the human condition via the pursuit of research rooted in the humanities, the empathy that is gained from this type of work is invaluable at the level of the individual.
JB: To me, the significance of humanities research comes from its interdisciplinary nature; the applicability of any given project is endless. 
As undergraduates, do you have any ideas about how to make humanities research more accessible to other students?
MB: In my experience, I didn't really know what it meant to conduct research in the humanities prior to college, and the minimal understanding that I did have was not quite reflective of reality. I think that exposing students to the fundamentals of humanities research earlier in their academic careers would be the first step in making it more accessible– by creating a more comprehensive image of what research in the humanities looks like while simultaneously encouraging more funding and opportunities, like SHARE, to introduce students to this type of work, I believe that there would be a much larger demonstrated interest.  
JB: Professors should share their past and present research endeavors with their classes more often. I am always in awe of my professors' publications and the incredible people they have encountered and collaborated with over the years. By sharing these accomplishments with students and potentially offering them roles similar to that of a SHARE apprentice, humanities research will inevitably expand — especially since many students don't even realize it's a thing! 
What advice would you give students who are interested in applying to the SHARE Apprenticeship Program? 
MB: I would definitely say to be open to new opportunities/research interests that may not strictly align with your own.  In my experience, I didn't have an extensive background in Reformation-era literary history prior to my SHARE apprenticeship. However, I've learned so much about Tyndale, archival research, and the field of material texts in addition to all of the invaluable research skills I've gained. If an opportunity sounds interesting to you, definitely pursue it. 
JB: Don't feel intimidated by any project, as long as you are passionate about the subject matter you will thrive in the apprenticeship. Similarly, never think you are unqualified because ultimately you are there to learn.
For more information on the SHARE Summer Apprenticeship program, please visit https://ugradresearch.uconn.edu/share-summer/. For more information on undergraduate research opportunities at UConn, please visit https://ugradresearch.uconn.edu/.