by Pascale Joachim, '23 (CLAS)
I was immediately struck by English alumna Holly Wonneberger's appreciation for UConn as a university during our interview. "I absolutely loved being at UConn," Wonneberger smiled warmly at the start of our conversation. "I often bore people with how much I loved my time there."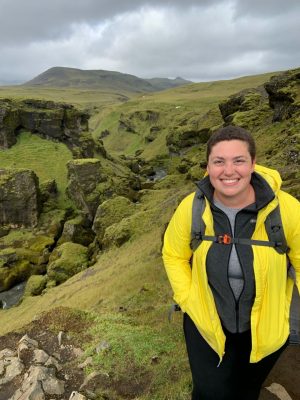 Wonneberger graduated from UConn in 2014 with a major in English, minors in Business Fundamentals and Political Science, and a concentration in Creative Writing. Wonneberger knew she wanted to work in law as a freshman, but wasn't too sure which direction she wanted to go in. After interning with both the Office of Diversity and Inclusion and the UConn Connects program, she developed a passion for the state of Connecticut and knew helping others was her calling. "Connecticut's a place I really care about. I think it's a great place to live, and I wanted to make it better." To Wonneberger, law school was the perfect place to do just that. 
Wonneberger graduated from Georgetown Law in 2017 and has since worked for non-profit organizations, CT Legal Services in Special Education Law, and the Commission on Human Rights and Opportunities. She is now Connecticut's newest Assistant Attorney General. 
A typical day of work for Wonneberger includes lots of reading and writing, doing research on statutes and laws, compiling documents, and developing strong arguments to help her clients in the best way possible. Wonneberger sees very clear lines between the work she does now and what she studied at UConn. "I think the most valuable courses that helped me with legal writing were my creative writing courses," she states. "A lot of emphasis in those courses is 'don't tell me, show me.' The meat and potatoes of good legal writing is being able to demonstrate why your argument is right rather than just saying that you are. You have to think closely and critically about how you're conveying what you're trying to say, and being an English major is great practice for that."
Wonneberger has been at the Attorney General's office for a few months and has an impressive array of experience behind her. Rather than focus on her next big goal, Wonneberger chooses to remain present and appreciate where she is. "I'm really happy where I am. As a young person, especially after the pandemic, you're very forward-thinking. So for now, a personal goal of mine is to enjoy where I'm at. I think a lot more people should try to do the same." 
For more information on internship opportunities with the Office of Diversity and Inclusion and UConn Connects, please visit the following links: https://achieve.uconn.edu/connects/ 
and https://diversity.uconn.edu/students/ (click Undergraduates, then Professional Development).